Blooming Bookmark – Free Pattern
Good books always need good bookmarks. These are bookmarks that bloom in your books at all times. If you want to add a little bit of bloom in the reading moments of your friends these bookmarks could be your perfect little gift.
Details of the bookmark pattern go as follows:
Yarn colours: Yellow, White and Green
Stitches: Single crochet (sc), Chain (ch) and Cluster Stitch (cs)
The cluster stitch in this project is a three double crochet cluster. 
The instructions of the cluster stitch are given separately.
Cluster stitch: Yarn over, insert hook in stitch, yarn over and pull hook out of the stitch. We will have three loops on the hook. Yarn over and pull yarn through two loops. Repeat twice. We will now have 4 loops on the hook. Yarn over and pull through all four loops.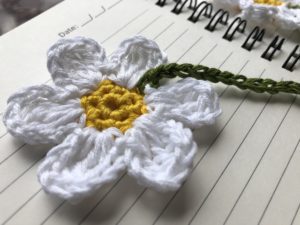 Blooming Bookmark Pattern
To make the flower:
Make a magic ring.
Round 1: ch 1(this is not a stitch), 6 sc in the ring. Join with slip stitch to the first sc.
Round 2: ch 1, 2 sc in all the stitches. Join with a slip stitch (12ch) 
Join the white yarn to the joining slip stitch.
Round 3: Ch 4 in the first stitch, Make a cluster stitch in the same stitch, chain 4, slip stitch in the same stitch to complete the petal (all these are done in the same stitch forming a petal) *Skip the next stitch, slip stitch in the next stitch (3rd stitch of the yellow ring) Ch 4, cluster 1, Ch 4, complete petal with slip stitch** Repeat from * to ** 4 times. (6 petals)
The flower is complete.
To make the tassel and chain:
Wind the yarn 4-5 times on two of your fingers.

 

Cut the yarn.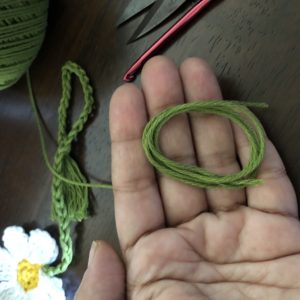 Make sure to keep the loose ends to on one side, to the bottom side.
Hold the loose end of the ball yarn with one end of the ring yarn. We will have three loose ends, two one side of the ring and one on the other side.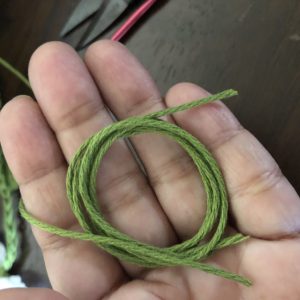 Insert hook through the ring, do a yarn over the hook and pull it out of the ring.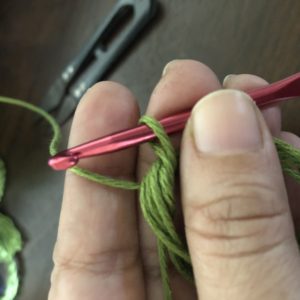 Keeping the loop on the hook, do a yarn over with the hook going over the ring. Pull the yarn through the first loop. This is our foundation chain stitch.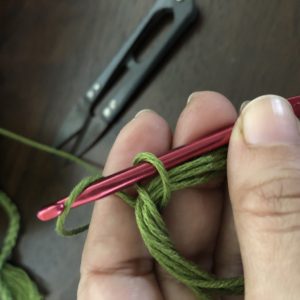 Make a chain of the desired length.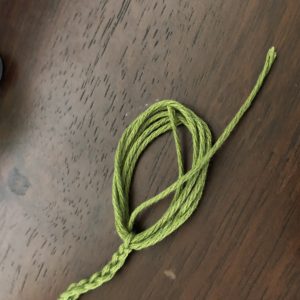 Join with a slip stitch to a stitch on the reverse side of the yellow section.
Take the loose end of the ball yarn and wind it around the tassel yarn twice, pull loose end through it and tighten. The top section of the tassel will be formed.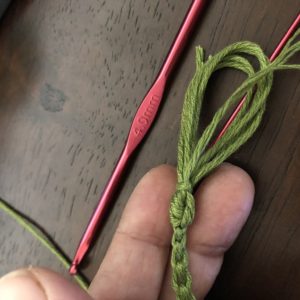 Cut the closed ends of the yarn to form a yarn bunch.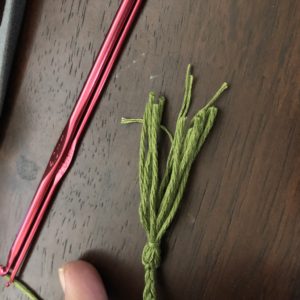 Fray the bunch of yarn with a comb or brush to make the tassel.
Cut the loose tassel end in a straight line to give a neat shape to it.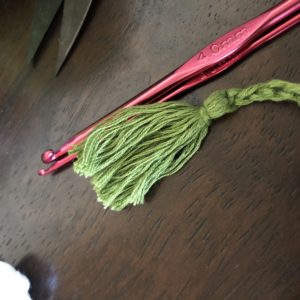 Our Blooming Bookmark is ready to adorn a book!