Jeans Recycled
My jeans were worn out beyond repair. No amount of patchwork could save them. Distressed jeans were not my type of clothes. So what was I supposed to do?
Recycling jeans had been on my mind since long. The possibilities a worn-out pair of jeans carry are innumerable. And this was my perfect chance to give it a try.
The result?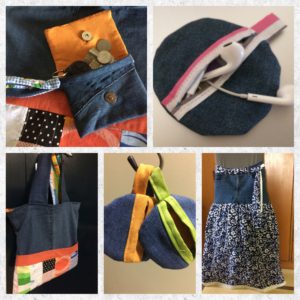 The colour of denim contrasted with all the other colours gave a striking and attractive result – be it the tote, the earplug pouches or the indigo skirt.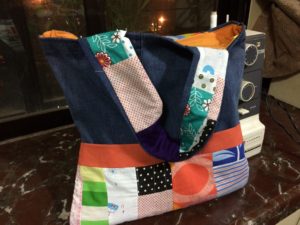 I could have done better but this was not bad. One pair of jeans was recycled into so many products. This tote was the first in line to take shape.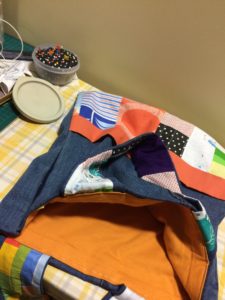 See the bright orange on the inside? That is a t-shirt my son had outgrown. It was a perfect fit for the inside. And the outside pockets were patched up scraps of cloth. They helped break the monotony of the large blue expanses.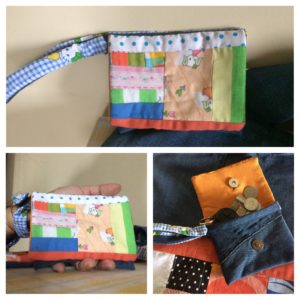 Next in line was a clutch to go with the tote. After all, we all need that little clutch to carry money, coins, keys etc.
Now I was left with small pieces of the jeans. What could I do with them? The earplug cozies were the perfect choice. I managed to make three to four cozies. These are snug and safe for the earplugs. No more tangled wires in my bag.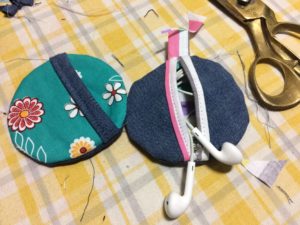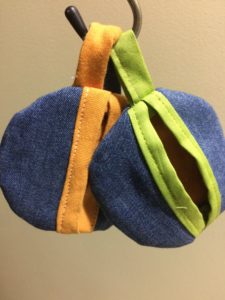 The last piece was the top portion. The pockets and zipper and all. Cutting it up would hardly give me anything. So the best choice was the skirt. The entire portion was kept intact. Adding a fresh piece of cloth gave me a brand new skirt.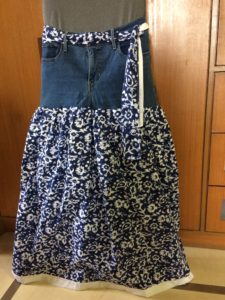 One pair of jeans worn out gave me the opportunity to create so many different items. Can't wait to work on the next pair of worn out denims.