Free Crochet Bookmark Patterns – Tried and Tested
It was one particular book that 'prompted' the need for a crocheted bookmark. Isn't it strange how inspiration springs out of some very unusual requirements?
In the book Gilead by Marilynne Robinson a Reverend is writing a letter to his son and the images of a church sprung up before me. There were women walking to and from church, their heads covered with crocheted scarves. Crocheted items become very prominent and I was thrown back to my childhood days in Darjeeling where crochet table covers, glass covers and throws were very prominently visible throughout the house. (My great-grandmother was the lady of the house and every crocheted item was intricately woven by her.)
This book deserved a crocheted bookmark but a suitable design was yet to be discovered. A little bit of hunting on Pinterest (this is my hub for ideas) threw up some images and finally a dainty and elegant looking design showed up. This was just the beginning and a couple of more soon followed.
Sharing a few free crochet bookmark patterns that I have worked on and each one is tried and tested. This means, you can comfortably pick any one and work on it with complete confidence of easily creating an elegant looking, long-lasting and re-usable bookmark. Each one is simple and quick to make.
As a personal preference I have chosen a yarn size that is suitable to work well with a 1.25mm hook. A perfect bookmark for me would be one that is:
Fan Bookmark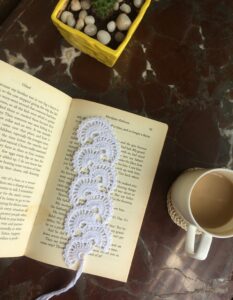 It is called the Fan Bookmark and a pretty elegant one this is. Happens to be one of my favourites patterns among bookmarks and a preferred choice for gifting to book lovers.
The original bookmark pattern suggests making eight 'fans'. I found that to be a little short in length and preferred making nine 'fans'. But then, that is my personal opinion.
Click here to get the Pattern.
Personal modification: Nine fans instead of the suggested eight. 
________________________________________________________________________________________
Heart Bookmark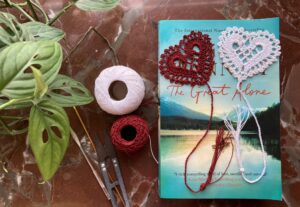 This is a simple crochet heart pattern consisting of chains, single crochets and double crochets. With no written pattern, it took a while to decipher it but once you understand how to go about it, it is a breeze. Add a 'tail' and a tassel to it and tada . . . you have a lovely bookmark.
Click here to visit the source of the 
Pattern

.
Personal modification: Add a tail and a tassel to create the bookmark.
____________________________________________________________________
Birgitta's Bookmark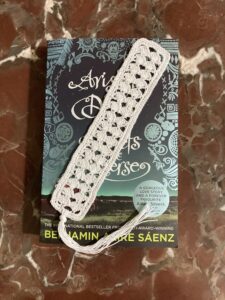 Not everyone likes a lacy piece with frills. Some would like to go for simpler versions. One such person is my brother. When he wanted a bookmark, sans the lacey look I had to look for a design that would suit his taste. Brigittas bookmark happened to be just the perfect one.
Though it looks simpler than the frill ones it does take a little longer to weave but then if it satisfies the person for whom it is made, every bit of effort is worth it. After completing the instruction steps I added a row of single crochets around all four sides. The tassel was the finishing touch.
Click here for the Pattern
The pattern is freely available on Raverly.
Personal modification: Row of single crochets all around the four sides and a tassel in the center of the first row.
________________________________________________________________________________________
Lacy bookmark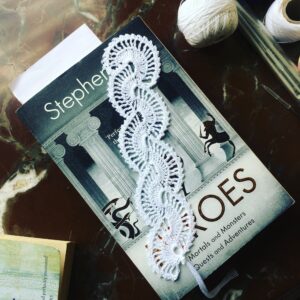 This lacy piece can be woven as is in the pattern or a little bit of improvisation can be made, like the one I made. The top of the bookmark, in the original pattern, gave the look of an abrupt end so I decided to round it off.
If you compare the original design to the one I have made the top is the only difference.
To round off the top make 28 tr stitches in the last fan instead of the 14 tr and join it tenth (10th) picot of the previous fan.
Tried looking up the site for the original blogpost but failed. Got this diagram from Pinterest that I am sharing here.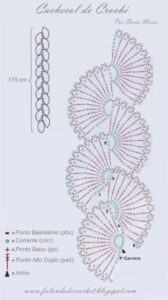 Personal modification: A round top instead of the pointed semicircular fan.
______________________________________________________
Tatted Bookmarks
Apart from these four crocheted bookmarks there are two tatted lace edging patterns that I have followed to make bookmarks, two dainty looking bookmarks. Originally these were lace edging patterns that I converted to bookmarks. And yes, I did add the tassels too.
Tatted Bookmark – 1 Floral edging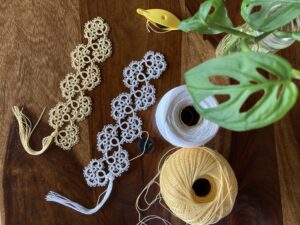 This is pattern for a lacy edging and edgings can be used in multiple ways. I decided to cut it short and make a bookmark instead.
Tried looking for the original source but failed. If anyone knows the creator of this pattern, please do share in the comments.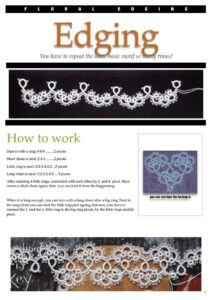 Personal modification: Four sets on both sides and a tassel.
___________________________________________________________________
Tatted Bookmark – 2 Flowers and leaves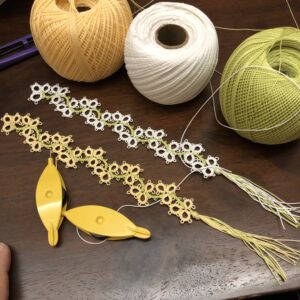 Another floral piece but a little less robust. Tried looking for the actual webpage for the pattern but failed. However, got the name of the website that is supposed to house this piece. Since it is not in English the search was a trifle more difficult.
If anyone has the link to this pattern's webpage, please do share. Would be great to give credit to the creator of the pattern.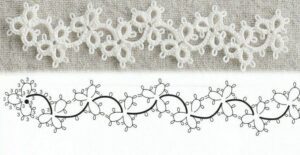 Personal modification: Used two colours instead of one and the tassel.
Click here for the Pattern
These are some of the bookmarks I have personally made and gifted to many family and friends. If you too know of book lovers go ahead and weave some magic and add a charm to reading experiences.
Happy reading and gifting!