Keychain – Crochet Mini Purse
Tiny little purses attached to keychains. Don't they ma
ke the most adorable gifts?
And when the recipient loves the gift you know your efforts have not gone in vain. If you too love to make crochet gifts why not give this one a try? They can be perfect return gifts, little giveaways at parties or just a little something you wish to gift anyone. If you don't want to make the crochet pouch yourself, but you know your recipient loves to crochet, you can get a gift idea from here. It still shows that you've put a lot of effort into finding something they would like!
As you guys know, I love my custom photo keychain! However, I was recently thinking what would I do if I lost it? So, the following are the details about these crochet keychain purse gifts I made for a friend. Remember, there are many options for custom keychains out there, but this is just one of them.
Crochet Purse Keychain
Material:
Yarn: 4 ply two colours of your choice (I have used the Laura Knitting Yarn)
Embroidery needle: thick and blunt head (usually the ones used for cross stitch)
Button: Of your choice
Stitch: The entire project is done in half double crochet (hdc).
Finished item: 8 X 5.5 cm
Instructions
Row 1: using colour A: Chain 16
Row 2: Hdc in third stitch from hook
Row 3 – 10: Ch 1; Hdc in all the stitches (we will have 14 hdc stitches)
Row 11: Ch 1; Hdc in all stitches; Ch 12 (this is the protruding part that forms the loop)
Row 11.1: Hdc in 2nd ch from hook; Hdc in all stitches (This only refers to the loop section) Join this loop portion to the main portion with a slip st. (we can form the loop later by stitching with a needle when finishing off)
Fasten off.
We will now have to move over to colour B
Join colour B to first stitch of row 11.
Row 12: Ch 1: hdc in all 14 stitches
Row 13 – 15: Repeat row 12
Row 16: Ch 1; hdc in 7 stitches; ch 1(this forms the button hole); hdc in 6 stitches
Fasten off.
To finish: Thread the needle with colour A yarn. Make a loop by folding the loop section towards the purse body and attach with a two stitches. You can insert the keyring at this stage. Fasten off.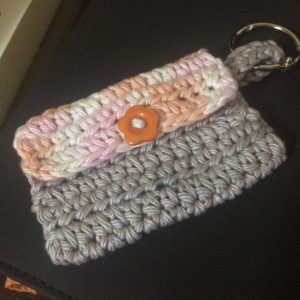 Fold the colour A section of the purse in half. This will form the purse. Using needle and thread neatly stitch the sides. The purse is ready.
Fold down the top flap (colour B section). Mark the place of the button hole on the purse.
Stitch the button.
Viola! The purse keychain is ready. You can even pair it with a Personalized Photo Keychain to double up the gift's personal impact.
You can buy some of your supplies here:
Crochet hook set

Keychain rings

Fancy Button